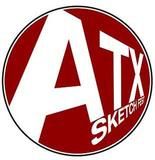 Are you still kicking yourself for missing the last STAG! Comedy show? Are you looking for something fun to start your Memorial Day weekend? Are you a sucker for killing two birds with one stone? Well, have I got some news for you!
STAG! Comedy (featuring Mascot Wedding, as well as members of Master Pancake Theater and Comedy Sportz) will be performing Thursday, May 27th, as a part of Austin Sketch Fest. Curated by Lance Gilstrap (also a Master Pancake alum and member of the very funny Midnight Society), Austin Sketch Fest is a three day showcase of some great comedy featuring local and national sketch groups. Shows will take place at Coldtowne Theater, with additional shows taking place Saturday night at the United States Art Authority. This will be our first time performing at Coldtowne, so we're really looking forward to the opportunity to put on a fun show at a great local venue.
For more information about Austin Sketch Fest, click here. For tickets to Thursday night's show featuring STAG! Comedy (with Green Tuna and Turn of the Century Paris), click here.
Seating at Coldtowne Theater is very limited, so get your tickets while you can. And, if you can't make it out to support STAG!, at least consider checking out the rest of Austin Sketch Fest. It's a very cool event and Lance has been busting his ass to put it together.